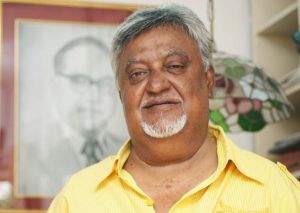 'I am a venereal sore in the private part of language.' That's Namdeo Dhasal, the maverick Marathi poet who hardly had any formal education. Born in 1949 in a former 'untouchable' community in Pur-Kanersar village near Pune in Maharashtra, as a teenage taxi driver he lived among pimps, prostitutes, petty criminals, drug peddlers, gangsters and illicit traders in Bombay/Mumbai's sinister and sordid underworld. In 1972, he founded Dalit Panther, the militant organisation modelled on Black Panther. The same year he published Golpitha that belongs to the tradition in modern urban poetry beginning with Baudelaire's Les Fleurs du Mal. Since then, he has published eight collections of poems from which this representative selection is drawn.
In 2004, India's national academy of letters, Sahitya Akademi, honoured Dhasal with the only Lifetime Achievement Award it gave during its golden jubilee celebrations. Dhasal's long-time friend and bilingual poet Dilip Chitre, acclaimed for his translations of the seventeenth century Marathi poet-saint Tukaram, considers Namdeo Dhasal to be one of the outstanding poets of the twentieth century. He died in 2014.
Dilip Chitre (1938–2009) was a poet, painter, translator, and filmmaker. He wrote more than fifteen volumes of poetry in Marathi and ten in English. His film Godam won the Prix Special du Jury in Nantes in 1984.
---
In the media
From his pen rises the stink of bodily functions, the anguish of hunger and a compassion for lumpens (his word) like himself.—Outlook

'This is Mumbai without her makeup, her botox, her power yoga; the Mumbai that seethes, unruly, menacing, yet vitally alive'—The Hindu
'This elegant book is a journey through the bowels of those quarters over which we have constructed robust mental flyovers'—The Sunday Times of India
'Chitre succeeds in reproducing the images and metaphors of Dhasal's work, and his unmistakable, hard-hitting voice'—Outlook
'Dhasal employs an aesthetic of fracture… towards writing into existence the continuing alienation of dalits seduced by the shiny assurances of a still-new nation'—Biblio: A Review of Books